mother!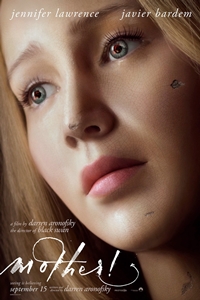 View Trailer
Release Date:
September 15th, 2017
MPAA Rating:
R
Runtime:
2 hr. 1 min.
Genres:
Drama, Horror
Director:
Darren Aronofsky
Cast:
Jennifer Lawrence, Javier Bardem, Ed Harris, Michelle Phfeiffer
Synopsis A couple's relationship is tested when uninvited guests arrive at their home, disrupting their tranquil existence. From filmmaker Darren Aronofsky (Black Swan, Requiem for a Dream), mother! stars Jennifer Lawrence, Javier Bardem, Ed Harris and Michelle Pfeiffer in this riveting psychological thriller about love, devotion and sacrifice.


Be among the first to see Star Wars: The Last Jedi at the 6pm Opening Night Fan Event. Fans will be treated with exclusive content, collectible cards, and a complimentary popcorn. No passes or rain checks accepted. SOLD OUT!